effeminate leeway / room69
2021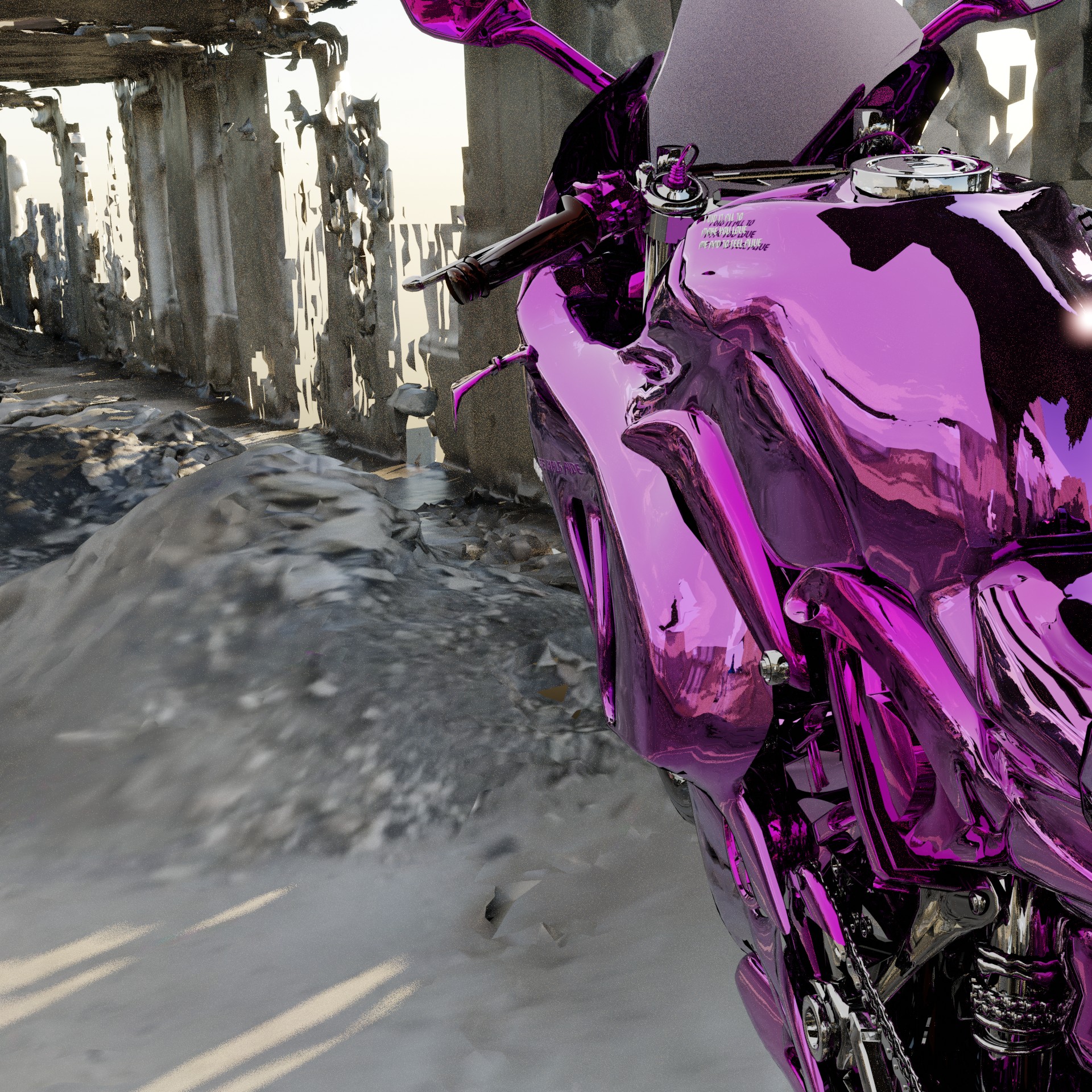 The work effeminate leeway is my personal starting point of the exploration of the theme motorbikes from a female riders perspective.
The work was developed for the digital hijacking via google maps as part of an ongoing group exhibition by room69.
Only by placing the object in the virtual space that directly mirrors the real space, a Pink Motorcycle can exist at all. Without a controlling person, the vehicle itself becomes the subject. Especially through the attractive shiny surface, the view of female motorcycle culture is provoked anew without the accompanying sexualization. By placing it in a digitally appropriated space, the object thus becomes a symbol of intrusion into unwanted areas - i wish you were not here.
seen as part of the ongoing google maps exhibition 𝖎 𝖜𝖎𝖘𝖍 𝖞𝖔𝖚 𝖜𝖊𝖗𝖊 𝖓𝖔𝖙 𝖍𝖊𝖗𝖊.
In their latest installment of exhibitions, the artist collective
@r00m69
is pleased to present 𝖎 𝖜𝖎𝖘𝖍 𝖞𝖔𝖚 𝖜𝖊𝖗𝖊 𝖓𝖔𝖙 𝖍𝖊𝖗𝖊, a Google Street View based hybrid intervention and virtual experience. Topologies of virtual space that mirror real-world locales have evolved into a new architectural arena for the creation, exhibition, distribution and experiencing of art. These virtual landscapes, however uncontrolled, uncurated, unmanaged, pull on the atmosphere of the physical areas in which they are anchored, toying at protest and deconstruction, and push beyond the appearance of "the real."
Virtual topologies reflective of their physical counterparts can develop a dialectic understanding of the way organism, object, space and environment mutually construct each other.
𝖎 𝖜𝖎𝖘𝖍 𝖞𝖔𝖚 𝖜𝖊𝖗𝖊 𝖓𝖔𝖙 𝖍𝖊𝖗𝖊 attempts to ingest the lived, the essential, the forgotten the ignored, the sutured, the cellular, the categorical, the intimate, the abandoned and other such social-geographies of the physical realm into the virtual one, one that is relational, processive in viewing reality and consisting of multiples, a complex of processes. This ingestion process of replicating and scanning the physical, in this case a derelict cinema house in an affluent inner-city district, brings into view multiple aspects of complex systems that transform through a focused view on each artist's work.
find the exhibition here.
---